First visit
Beginning your chiropractic care has never been so easy. We have a special offer for your first visit!
Back Pain, an epidemic problem
Would you accept a spinal examination at the cost of the Clinique Solution Santé Chiropratique?
Vertebral screening
The offer includes : first case study, consultation, the chiropratic neurological and orthopidic exams. X-ray not included.
$30 fee by radiograph may apply.
Headache, Migraines
Neck, Arm and Shoulder Pain
Lower Back Pain
Insomnia, Nervousness
Fatigue, Lack of Energy
Disks Disorders, Osteoarthitis
Pain between Shoulder
Feet Numbness
Sciatic Pain
Breathing Problems
Earache
Do not ignore these alarm signs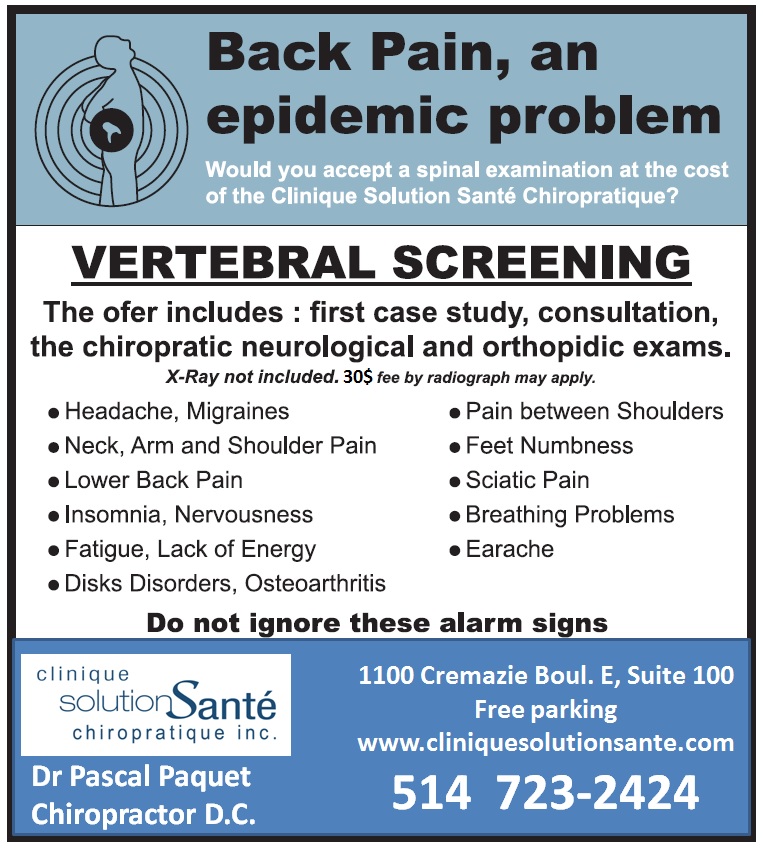 How it works
In order to facilitate your first visit, feel free to fill out our QUESTIONNAIRE. It will give us an overview on your medical history. The questionnaire will be given to you upon your arrival, if you were unable to fill it out beforehand..
During your first appointment, we will discuss you medical history, as it helps us better target the reason for your visit, your goals and sometimes reveals the fears about your pain. Many people who see a chiropractor do not have pain. They do so simply to verify that their spine is in good condition and to prevent problems from arising: a preventive approach is clearly recommended. Dr. Pascal Paquet, chiropractor, D.C., will conduct several tests to assess your health including neurological, orthopaedic and chiropractic exams. Infrared thermography and x-rays are used to complete the evaluation. Vertebral thermography is a reliable, radiation-free, painless test that measures the infrared heat emitted from the spine. Significant differences in temperatures indicate abnormalities in the nervous system. The x-rays are taken in the clinic, and we may take up to six of them. The purpose of the first visit is to verify whether or not we can help you. Please note that no treatment will be performed on the first appointment, as it allows us to better understand your condition and provide you with personalized recommendations.
At your second appointment, Dr. Pascal Paquet, chiropractor, D.C., will explain the results of the exams and x-rays before making the first adjustment (if you are a candidate for chiropractic treatment). Reassessments are scheduled every 6 weeks or 12 adjustments.