Athletes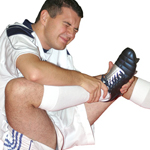 When developing an injury prevention program, thinking about the relationship between joints and the lower part of the body seems to be common sense. However, traditional medical treatments only treat the joints, ignoring the fundamental truth that a trauma from somewhere in the body can cause damage elsewhere. Chiropractors take care of the entire network of interconnected bones, muscles and joints when teaching their patients how to avoid injuries. Dr. Pascal Paquet, chiropractor, D.C., focuses on your wellbeing as a whole, not just the joints. In fact, he is trained to pinpoint the biomechanical problems that increase your chances of getting injured. Chiropractors use the knowledge that they acquired from years of schooling to eliminate hip, knee, ankle, elbow and wrist problems.
Starting with the spine is crucial, because this is the root of most alignment problems. Chiropractors work to restore normal movement to your spine where motion has been restricted, or vertebrae misaligned.
Dr. Pascal Paquet, chiropractor, D.C., works closely with professional cycling teams, and hockey, baseball and soccer players. You may have seen him at the Salon du Vélo where he was a speaker for five years. Whether you are a professional or amateur, we can help you enjoy your favourite sport in good health.
Before any treatment, it is important to have the right diagnosis. Your injury could be a fracture. To ensure this is not the case, x-rays will be needed. We also offer chiropractic, orthopaedic, physical and neurological exams.
– Stretching exercices

– Lower extremity chiropratic adjustments:

– Pelvis
– Femur
– Shins
– Peronius
– Tibia
– Ankles
– Feet

– Upper extremity chiropratic ajustments:

– Shoulders
– Clavicles
– Scapula
– Carpals
– Metatarsus
– Humerus
– Radius
– Ulna

– Myofascial release
– Athletic tapping, Spider Tech
– Post-treatment advices
– Exercices
– Ice/Heat
– Vitamins/nutrition/hydration
If you carry a bag, choose a "backpack model": satchels can seriously misalign your spine. If you carry more than the bag can contain (a book, a lunch, a pair of shoes, a toiletry bag, etc.), choose a backpack. If you absolutely must take a satchel, alternate the shoulder on which you wear it.
– Strength inequality
– Muscle cramps, iliotibio band
– Cycling body position
– Cervical pain
– Arm and hand pain
– Pelvis and lower back pain
– Knee pain
– Tennis elbow, golf elbow
– Forearm pain
– Wrist pain
– Knee pain
– Tendinitis
– Shoulder problems